So, 11.11.2007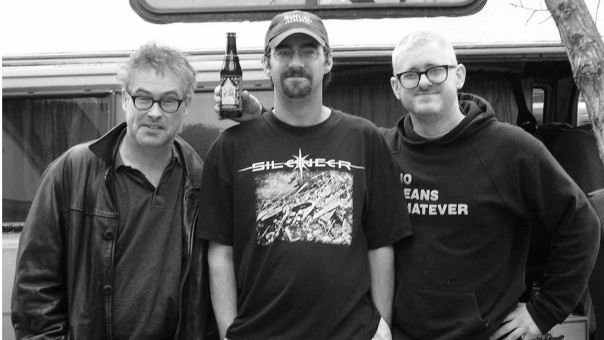 Längst können sie den Status lebender Legenden geniessen: Das 1979 gegründete, nach einer Anti-Vergewaltigungs-Kampagne benannte Trio No Means No aus Vancouver in Kanada ist seit seinem ersten Auftreten eine Ausnahme-Erscheinung der alternativen Szene.
Mit todernstem Humor greifen sie bewegende Themen auf, sie in ihren mit Sarkasmus und Ironie gewürzten Texten zu mit Funk und Jazz angereicherten, aggressiven Punk-Songs unter die Leute zu bringen, die einen wesentlichen Einfluss auf die Entstehung des Math-Rock ausgeübt haben.
Mit den Brüdern Rob (Bass und Gesang) und John Wright (Drums, Gesang und Keyboard) als Urgestein, und mit wechselnden Gitarristen, haben sie Geschichte geschrieben, mit den Hanson Brothers zollen sie den Ramones und dem Eishockey grinsenden Tribut, in Zusammenarbeiten mit Victim's Family, D.O.A., The Ex, Jello Biafra und vielen anderen beweisen sie immer wieder Integrität.
Verblüffend, wie frisch die Herren auf ihrer letzten Veröffentlichung «All Roads Lead To Ausfahrt» klingen. Da wird es nicht gross erstaunen, dass sie live immer noch diesen Druck auf die Bühne bringen werden: «No Means No!».
Angeheizt wird der Abend von den Invasives werden, auch zwei Brüdern, Byron an Gitarre und Stimme, und Adam Slack an Bass-Gitarre und Backing-Vocals, mit ihrem Kumpel Hans am Schlagzeug. Früher als Married To Music unterwegs, haben sie ihren Namen gewechselt, und sind nun auf dem SNFU-Label Rake zu Hause, wo sie diesen Herbst das Album «All Appetites Converge» veröffentlicht haben. Sie touren mit Leuten wie Removal, Hanson Brothers, und, eben, No Means No, zu beweisen, dass sie deine nächste favorisierte Punkband sein werden.