Do, 03.05.2007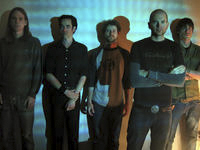 Von einer Handvoll Freunden 2003 gegründet, um ihren gemeinsamen musikalischen Ausdruck zu suchen, hat sich das Projekt Red Sparowes zu einer eigenständigen Band ausgewachsen, selbst wenn dessen Beteiligte auch in Gruppen wie Isis, Neurosis, Angel Hair, The Cignal, Battle Of Mice und anderen aktiv sind oder waren.
Wie ihr Debut «At the Soundless Dawn» (2005), ein episches Instrumental-Album, dessen Songtitel Sätze und Abschnitte eines als Ganzes zu lesenden Textes darstellen, ist das wiederum für das Neurosis-Label Neurot Recordings aufgenommene zweite «Every Red Heart Shines Toward The Red Sun» (2006) darauf angelegt, vom ersten bis zum letzten Ton durchgehört zu werden.
Dabei wird die Geschichte vom «Grossen Sprung nach vorn» erzählt, als Mao Zedong 1958 die chinesische Bevölkerung, besonders die Bauern aufrief, gegen Schädlinge vorzugehen, gegen Sperlinge («Sparrows») unter anderen, welche mittels konstantem Aufscheuchen und in der Luft halten durch Erschöpfung vernichtet werden sollten, um das Saatgut vor den gefrässigen Vögeln zu schützen.
Die Natur dankte die Vernichtung der natürlichen Feinde der Heuschrecken, indem diese über die Ernten einfielen, eine verheerende Hungersnot bewirkend. Fernab von Ideologie oder deren Kritik, werden die Macht über die Masse, die Verantwortung der Einzelnen, der Glaube an nicht hinterfragte Idole, das Vertrauen in die eigene Vernunft thematisiert, in einem Soundtrack für die Breitleinwand, der von filigranen Passagen über massive Gitarrenwände hin zu orchestralen Ausbrüchen alle Register zieht, die Geschichte zu vertonen.
Aus dem Stall des Subversiv-Labels kommt ein weiteres geflügeltes Wesen, den Abend zu eröffnen: Das Trio Pirol erhebt sich auf den Schwingen von Bass und Gitarre, angetrieben vom Herzschlag des Drummers, über die musikalische Landschaft, kreist über Math-Rock-Gefilden, lässt den Stoner krachen, und offenbart nach der Landung, dass da das zweite Album der Band unter ihren Fittichen herangewachsen ist, und darauf wartet, getauft zu werden.